Leon, wrote.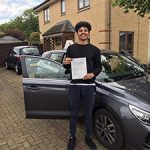 Bryan is a fantastic instructor. There was never a dull moment learning to drive with him, but even with all the jokes and banter, he still taught everything clearly and efficiently. I would definitely recommend him if you're learning to drive Milton Keynes. I passed my test first time with only 4 minors because he suited me with all the skills that enabled me to do so. Thank you, Bryan, once again,
Leon.
Leon Creary from Leadenhall
Passed FIRST TIME June 2018
Matthew, wrote.
Bryan is an excellent instructor who will give you guidance on not only how to pass your driving test but also to be a safe driver. He will make you feel at ease behind the wheel with his jokes and tips. Would highly recommend to anyone learning to drive.
Matthew Dawson, from Wavendon Gate
Passed June 2018
Taylor, wrote.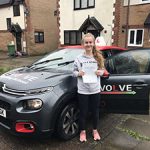 I would 100% recommend Bry! Jokes around with you when he can but is hard on you when he needs to be! Definitely knew how to get the best out of me, even when I didn't think I could do something he made me believe in myself.
Passing your test is one thing but I feel ready to go on the road myself as well! Bry teaches you how to be a good driver rather than just pass your test! We had great laughs as well so will miss seeing him so regularly!
Thank you for putting up with me. I know that's a challenge in itself and thank you for teaching me how to drive!!
Dankeschön!!!
Taylor.
Taylor Shields, from tattenhoe
Passed may 2018
Luke, wrote.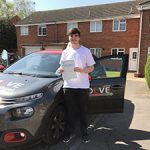 Cheers Bryan for the help couldn't have asked for a better instructor. Because of you, I passed first time and because of the advice, I was given I feel this will make me a great driver. I would recommend this to anyone as my experience was great and I highly appreciate the help. It is also great for the money. Evolve driving school is, in my opinion, the best for the money.
Luke Thompson, from Fenny Stratford
Passed FIRST TIME April 2018
Tasha, wrote.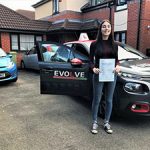 I passed my driving test first time today all thanks to Bryan at Evolve.
I cannot recommend him enough! Bry helped me so much throughout the whole learning process and not only did I feel ready for the test but I also feel so ready to go out driving on my own, thanks to the preparation he gave me for any real-life situations that I may encounter. 
He encouraged me to push myself in lessons and did so whilst having a laugh and keeping me calm. He has such a great way of explaining things which helped massively with things I couldn't quite grasp the concept of. 
Not only have I come away from our lessons like a capable driver, I have also had lots of fun learning.
Tasha Hartman, from Loughton
Passed FIRST TIME March 2018
Aaron, wrote.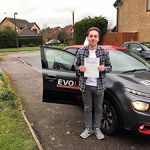 With both my older brother's having already passed first time with Bryan, he was the only instructor my parents were ever going to trust to teach me. I'm delighted to have also passed my test first time today with Evolve, allowing Bryan to complete his hat-trick with a collection of only 10 minors between us!
Bryan is a brilliant instructor who is calm, patient and extremely knowledgeable (lots of exclusive tips). He always pushes you to be better, but you never feel over-pressured or unsafe. He prepares you completely for the test, not rushing you, but (unlike some instructors) never making you pay for extra lessons you don't need. Most of all, Bryan is a brilliant guy. You'll never be bored, and he'll always make you laugh which is great for any nerves you have. Thanks for everything Bry! I'll miss our Thursday evenings together.
Aaron Ryan, from Browns Wood
Passed FIRST TIME February 2018
Sophie, wrote.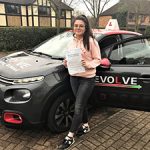 I passed my test with Bryan today! He's been so patient throughout even when I have my blonde moments. Always enthusiastic and made me feel less nervous with his light-hearted banter. I'd highly recommend him as a driving instructor as he's very reassuring even when you feel like giving up! Thank you very much, Bry!
Sophie Tuson, from Furzton
Passed January 2018