DRIVING TEST REVIEWS 2019
Take a look at some of our past pupils driving test reviews 2019 who are now fully qualified drivers. They kindly left us a review of the driving school to try to help anybody making a decision to take driving lessons in Milton Keynes. Contact the driving school to get you off to your journey of discovery and freedom.
Have a look at our previous years driving test reviews 2018 for more of our successes.
Dominic Hewitt, wrote.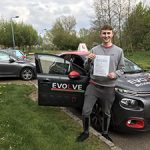 Bryan is a down to earth driving instructor. Doesn't take anything too seriously and has the best intentions of making you able to pass your test. He will know when you're ready and will put you in certain situations to test your ability, so take it as a compliment.
Dominic Hewitt, from Broughton
Passed April 2019
Lauren Stanley, Wrote.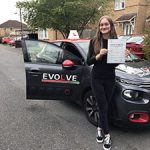 For anyone looking for a funny, patient and honest driving instructor, I highly highly recommend Bry and his driving school!
A massive thank you to Bry for putting up with me! I was a bag of nerves throughout my whole driving experience but he helped me to believe in myself and be confident. He helps you to understand where and if you go wrong and how to correct it. He also taught both my brothers who passed first time. I wouldn't have wanted to drive with anyone else and I wouldn't have been able to pass my test without him!
Thank you again, Bry.
Lauren Stanley, from Monkston
Passed FIRST TIME March 2019
Imogen, Wrote.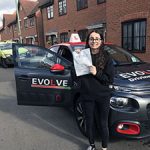 Bryan was a one-of-a-kind instructor, we had a lot of banter and laughs but he stayed professional and guided me when needed. He has helped me become a confident driver as I was always on edge about learning to drive from the start, and I am now a positive and optimistic driver. He's got a good eye for areas of weakness and helps you to correct these immediately. Big thanks to Bry for the amazing experience and first time pass, wouldn't ask for anyone different.
Imogen Fudge, from Westcroft
Passed FIRST TIME March 2019
Ethan domaradzki, wrote.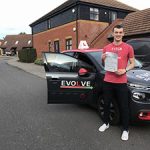 If you want to learn how to drive the right way and get your licence confidently, then Evolve Driving School is your best choice! Bryan is a brilliant instructor and he makes learning how to drive feel like learning how to ride a bike. He is very professional, always showed up on time and I never had any issues with organising dates for lessons with him. It was a pleasure to be his student and there was never a dull moment when I was in the car with him.
Ethan Domaradzki, from Shenley Lodge
Passed March 2019
gabby, Wrote.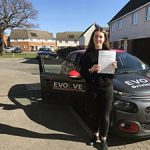 I would highly recommend Evolve driving school! Bryan is an amazing, patient and understanding instructor who made it so much easier to learn with as he made me feel comfortable and confident in the car. He was able to help calm me down as a very nervous/emotional driver and Bryan really did make learning a lot easier and enjoyable for me and enabled me to pass first time! which I never thought would happen.
Gabby Berry from Broughton
Passed FIRST TIME February 2019
rebecca Searle, wrote.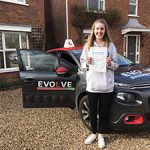 Learning with Bryan was a great experience, he was very helpful, patient and someone you could have a laugh with. A great instructor who helped me to become more confident and believe I could drive. He soon understands strengths and weaknesses and is quick to correct any weaknesses that you might have. I would 100% recommend him for anybody.
Thanks, Bryan
Rebecca Searle from Willen
Passed February 2019
Emily Clarke, Wrote.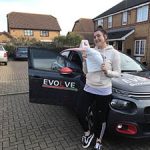 Passed my driving test today with the help from Bryan. Thank you for not letting me give up, amazing instructor, makes you laugh but is also serious at the right times…. thanks again Bryan
Emily Clarke from Wavendon Gate
Passed February 2019
Zara, wrote.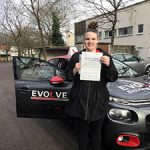 The whole experience was a pleasure. The value for money can't be compared! You get what you pay for and more. I not only passed first time but I feel very confident in my driving ability thanks to Bryan! Would 100% recommend to anyone wanting a professional and personal service!
Zara Lynch from Tinkers Bridge
Passed FIRST TIME January 2019
Emma Daniell, Wrote.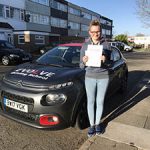 Absolutely lovely company and drivers are amazing. Bryan pushes and pushes and never gives up or let you feel like you can't do it, he's amazing!!
Emma Daniell, from Bletchley
Passed FIRST TIME January 2019